UV-Confidence, Powerful ultraviolet purification.
The threat of viruses and bacteria has never been more present in all our lives. Everyone, everywhere - at home and at work - is constantly aware of the need for cleanliness and disinfection. Now, you can enjoy the confidence that comes from knowing you've done more to care for your health, and the people close to you. The answer is UV-C light by Osram.
UV-C is a proven technology of obliterating micro-organisms efficiently.

Can UV-C help prevent COVID-19 transmission by reducing contamination?

Quote from IUVA:

Based on existing evidence, we believe so. Here's why:

UVC light has been used extensively for more than 40 years in disinfecting drinking water, waste water, air, pharmaceutical products, and surfaces against a whole suite of human pathogens (

Fluence UV Dose Required review IUVA

)

All bacteria and viruses tested to date (many hundreds over the years, including other coronaviruses) respond to UV disinfection. Some organisms are more susceptible to UVC disinfection than others, but all tested so far do respond at the appropriate doses.

IUVA Fact Sheet on UV Disinfection for COVID-19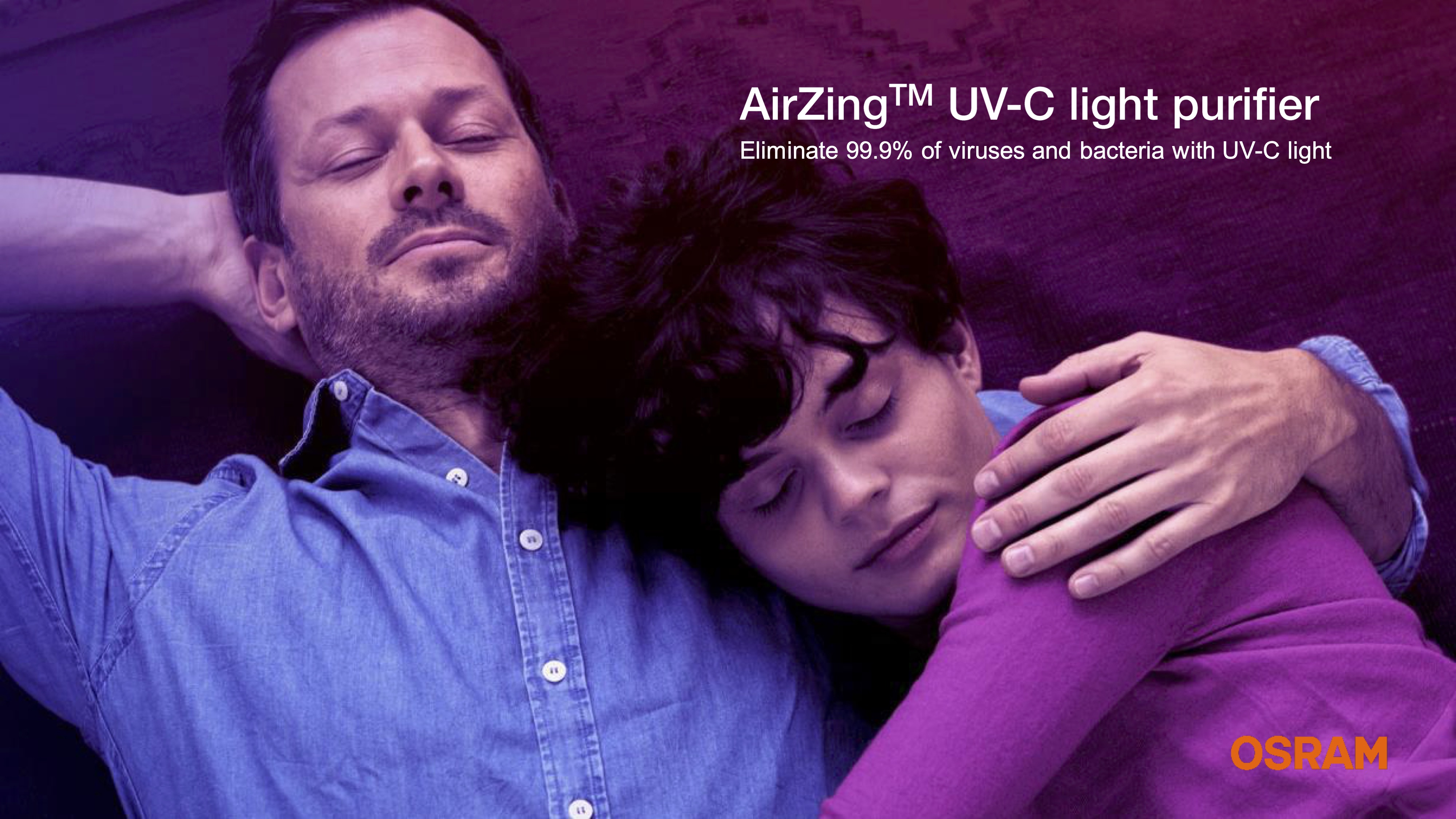 AirZing™ UV-Compact air purifier for use in residential and buildings. The germicidal UV-C device neutralises 99% harmful viruses, bacteria and microorganisms in the air based on UV-C light. Whether at home, in the car or in the office: This innovative device improves the air that surrounds you. With its sleek yet functional design, it is suitable for a variety of uses - yet compact enough to take you anywhere.
UV-Confidence UV-C disinfection has been proven to eliminate up to 99.9% of viruses, bacteria.

UV-Certified Tested and certified quality product from OSRAM

UV-Care The essential extra cleaning to kill harmful viruses and bacteria in the air.

UV-Clean Cleans the air and ensures good circulation - and silent, Ideal for use in the home,

car, workplace and other indoor areas close to people.

UV-Convenient This small battery powered device is rechargeable. It fits comfortably in most

handbags and cup holders in vehicles - ideal to carry.

UV-Clever Thanks to the well-concealed lamp and refined design, the AirZing UV Compact is

suitable for use near people and animals (safety regulations must be complied).

UV-Chic Sleek, stylish and understated design with aluminium silver finish.
---
Comparison





AirZing™ UV-Compact




AirZing™ UV-Compact Pro

Dimension
Ø66 x 240mm
Ø70 x 260mm
Weight
0.5kg
0.55kg
Number of fans speed
2
2
Volume
36 dBA at highest fans speed
36 dBA at highest fans speed
Power source
Battery (Included)
Battery (Included)
Filter
No
HEPA (H11) filter to ensure clean air leaks.


Reminder every 500 hours to clean the filter. Touch and hold the on/off button for 5 seconds, the timer will be reset to a new accumulation of the working time of 500 hours.

Lamp change possible
No
Yes
Safety switch
No
Yes.


The safety switch inside ensures that the lamp is switched off during filter cleaning and lamp changes.

USB charging
1 x USB Type-C
2 x USB Type-C
Timer (Automatic shutdown)
1 hour
1 hour
Operation temperature
0°C~40°C

0°C~40°C

Material
Aluminium (body) + PC
Aluminium (body) + PC
In-box content
1 x AirZing Compact Air Purifier
1 x OSRAM PURITEC® HNS® 7W 2G7 (included)
1 x USB cable 1 x Manual

1 x AirZing Compact Pro Air Purifier
1 x OSRAM PURITEC® HNS® 7W 2G7 (included)
1 x HEPA filter (included)
1 x USB cable
1 x Manual